Have you ever read an advice column in English? There are lots of different kinds, geared towards different audiences. Here are some examples:
Dear Abby is probably the most well-known, at least in the US, and at least of the older generations.
Dear Prudence is from Slate and covers all kinds of questions about life.
Ask E.Jean is from Elle Magazine and it's an example of an advice column for women, focused on love, dating, dieting, working, fashion and more.
Ask Amy is yet another example of a "personal advice" column.
Since You Asked is a bit unusual because the advice is given by a man. This column was discontinued in 2013, but you can still read the letters, most of which are quite long, as are the responses.
There are plenty more, and they are all rather similar in the types of topics people want to know about. But this next one is very different. It's from the 17th century (from the Atlantic):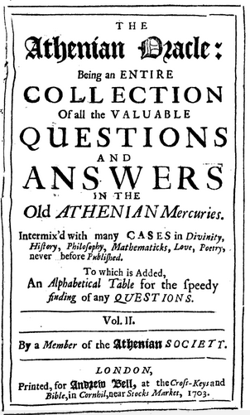 The language is sometimes very different than today's English:
"Q: What is the cause of the winds, and whence do they come, and whither do they go?"
And the types of questions are very different, more philosophical at times:
"Q: What is anger?"
"Q: What is love?"
Sometimes they are very politically incorrect from today's standpoint:
"Q: Is it proper for women to be learned?"
And the last question is answered very, very succinctly:
"Q: Is there, do you think, a large part of the world still left to discover?
A: Yes."