One person can make a difference in the refugee crisis.
Here's the story of a woman in Manchester, England who opened her home to a Syrian refugee:
"'Would he disapprove of my single heathen lifestyle?': me and my Syrian refugee lodger" from The Guardian
"He has no home and only the clothes he stands up in. She has a spare room. This is what happened when Yasser and Helen moved in together, as seen through both their eyes…"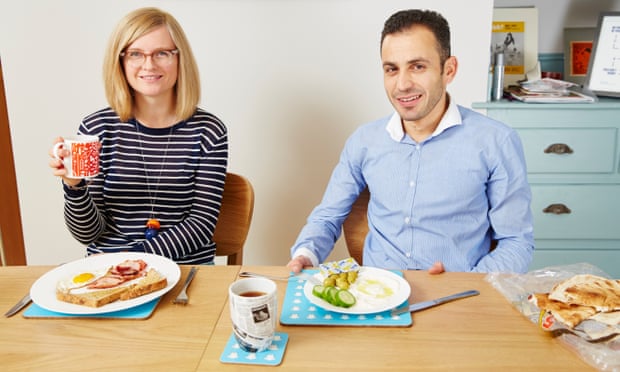 A few excerpts from Helen's story:
"…he told me of his 37-day odyssey across land and sea. He had sailed across the Mediterranean in an inflatable boat in the dead of night, even though he can't swim; walked from Greece to Macedonia, and crossed Europe until he reached the Jungle in Calais, where he jumped on trucks for six nights before making it to England hidden in the back of a lorry. After 17 hours packed between boxes of toys, he banged on the door. The truck driver was furious: he would face a £2,000 fine were the border police to discover his human cargo. Yasser scarpered. He wasn't sure he was even in England until a car passed him driving on the left. He walked to the nearest petrol station and asked them to call the police. His new life had begun."
⭐︎ ⭐︎ ⭐︎
"I thought having Yasser to stay would be a kind of atonement for mistakes I have made in my life, but his presence has made me feel guilty. Guilty for what I have, for the easy life I lead, for complaining about trivial things. One day I got in a tizz about how to fit a new curtain rail in my bay window. "In my country, people worry about whether a barrel bomb will hit their house. In England, you are worried about your curtains," Yasser said, laughing at his own joke. "We all have our problems."
⭐︎ ⭐︎ ⭐︎
"Yasser usually eats only halal meat, which posed a problem when Christmas came round and he joined me at my parents' place near Morecambe in Lancashire. The Muslim population there is close to zero, and my mother was struggling to source a halal turkey. I explained this to Yasser. He thought about it and said that, because my parents are Christians and Christmas is a Christian holiday, their turkey will be holy; halal basically means holy, so he could have it. But he drew the line at pigs in blankets."
And this from Yasser, the man from Syria:
"Another thing that was unusual was the cookery books Helen has in her kitchen. In Syria your mum tells you how to cook, not a book. I also noticed people here wear their outdoor outfits even when they're home. Why would anyone want to be in jeans when they don't have to? The first couple of weeks were a bit strange for both of us, I think. Like the first few minutes in a football match, where both teams are a bit cautious of each other.
This article is interesting for many reasons — including some of the British colloquialisms used — and can lead you to many good discussion questions.