I don't follow figure skating closely, but I know a lot of students are huge fans of Yuzuru Hanyu.
"Hanyu still looks good for gold at worlds despite defeat" (from the Japan Times)
But have you ever thought about which direction skaters, ballet dancers, gymnasts and other athletes spin? Is it usually clockwise or counter-clockwise? (I hope past students remember those words, as we used them many times in class! And you may come across the word "anti-clockwise" too.)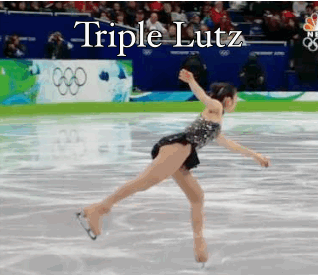 See more GIFS here (from the Atlantic)
This article researched the question: "Why do ballet dancers turn clockwise?" (from Ballet Focus)
You can also see which way Michael Jackson spins when he does his moon-walk.  (Spoiler alert) there's not a very surprising (or satisfying) answer, but it's fun to watch the videos and it's a great idea for a research project. Also, this is one article where the comments section doesn't include a bunch of trolls.
And for people like me who look at the various ice skating jumps and think they mostly look the same (axel? salchow? toe loop? lutz? What's the difference?), here's an explainer. Next time you watch Hanyu and Mai Mihara, you can understand what they're doing better.